American Lending Center Celebrates Lodge at Columbia Point Opening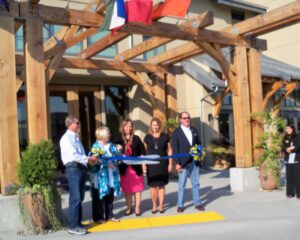 American Lending Center (ALC) today celebrated the opening of the Lodge at Columbia Point with a ribbon cutting ceremony featuring prominent members of the Tri-Cities community. The much-anticipated Lodge at Columbia Point is poised to be Richland's preeminent boutique, upscale hotel, already boasting a multitude of excellent reviews from early guests.
The ceremony included words from Elisabeth Holt, Member Development Director of the Tri-City Regional Chamber of Commerce, a Special Presentation of Proclamation from representatives of the City of Richland, and a ribbon cutting with board members, public officials, and ambassadors.
As the third-party lender of an SBA 504 loan for the Lodge at Columbia Point, ALC contributed a two million dollar loan intended for the initial construction and development of the hotel. Through investment in owner-occupied small businesses like the Lodge at Columbia Point, ALC is helping to create well-paying, permanent American jobs, including 34 new positions associated with the new hotel. The Lodge at Columbia Point will bring additional economic benefits to the Tri-Cities area through its partnership with over 80 local wineries.
Bruce Thompson, ALC President and former Region IX Administrator for the U.S. Small Business Administration, remarked, "We are proud and honored to be part of this beautiful project. This will add to the economy through visitors coming not only to visit this hotel but also the entire Tri-City community."