ALC Invests in Niagara Falls Economic Development with Comfort Inn & Suites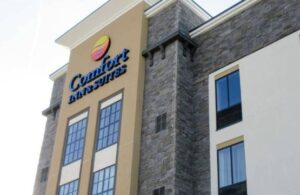 NIAGARA FALLS, NY – The Comfort Inn & Suites has opened in Niagara Falls, NY. The hotel represents the third property recently funded by ALC in Niagara Falls' hospitality industry, following the local La Quinta Inn and Microtel Inn & Suites, which opened in 2016 and 2017 respectively.
The four-story, 82-room hotel is set to increase the area's tourism revenue and generate significant local economic advancement. The city of Niagara Falls also contributed $100,000 through the N.F.C. Development Corporation, a program designed to stimulate local business growth.
"We are proud to welcome new tourists and industries to the area and to be building partnerships with organizations like American Lending Center," stated Mayor Paul Dyster. "We recognize that ALC funding was critical to the development of the Comfort Inn and numerous projects in the region and value their continued support and ongoing investment in our community."
"By investing in locally-operated small enterprises like the Comfort Inn & Suites, ALC supports communities by helping create permanent American jobs, acting as an investor lender, and stimulating economic growth," said John Shen, ALC CEO.