State Treasurer Fiona Ma Meets Irvine's John Shen, American Lending Center Team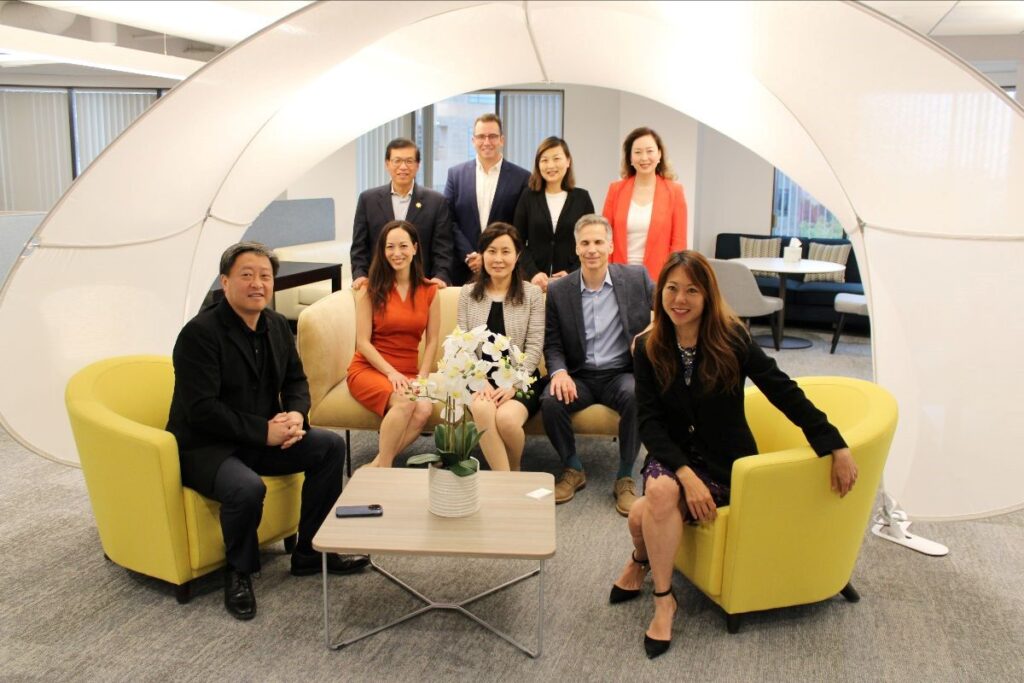 IRVINE, Calif.–(BUSINESS WIRE)–California State Treasurer Fiona Ma visited American Lending Center and Sunstone Management's headquarters in Irvine, CA, on Friday to talk about creating jobs through investment and state-backed small business loans.
Ma and her team spent more than an hour talking with John Shen and his team. Shen is co-founder of American Lending Center (ALC) and Sunstone Management along with his partner Stella Zhang. Coincidentally, the visit took place on the 14th anniversary of American Lending Center's creation.
Shen explained how the two components of ALC, as a regional center for EB-5 investment and as a non-bank lender specializing in small business loans through state-backed programs, created jobs in California and across the country.
"We have a passion for small businesses," Shen told Treasurer Ma. "Through our investment and loan programs, we've created more than 12,000 jobs."
The wide-ranging discussion also touched on the state's new Climate Tech Finance program – ALC is in the process of closing its first Climate Tech Finance loan. Sunstone Management's support of early-stage startup companies and growing partnerships with higher education institutions to encourage and incentivize entrepreneurship also caught Treasurer Ma's attention.
"I was impressed that ALC was the only non-bank and non-CDFI that helped get PPP loans to small businesses during the Pandemic. This is due to their proven 14-year track record of working with the US Small Business Administration. I'm also happy to see them focus on our rural and underserved communities which continue to need our assistance post-COVID," Treasurer Ma said.
Treasurer Ma sits on the board of the California Infrastructure and Economic Development Bank (iBank) as part of her position as state treasurer. ALC works closely with iBank with its loan guarantee programs.
Simon Pang, an ALC board member and co-founder of Royal Business Bank, helped arrange the meeting. He said he was pleased with the many common interests discussed.
"There was clearly a lot of synergy," Pang said. "I believe this is the next step in advancing goals, including job creation, of both the state and American Lending Center."
About American Lending Center: A Financial Times (FT) Americas' Fastest Growing Company
American Lending Center (ALC) is a private nonbank lending institution and nationally recognized leader in small business lending. By the end of 2022, ALC had offered strategically structured senior loan products to 83 qualified projects in 19 states, contributing to a combined construction and business expansion budget of over 1.2 billion dollars. ALC's lending practice has successfully created more than 13,000 new jobs nationwide since 2009. As one of only a handful of nonbank institutions designated to provide immediate financial relief to struggling small businesses during COVID, ALC provided PPP loans to nearly 30,000 small businesses across all 50 states and Washington, D.C.
Follow American Lending Center on LinkedIn, Facebook, and Twitter.
About Sunstone Management
Sunstone Management is a diversified private capital sponsor firm located in Southern California that invests in diverse early-stage technology entrepreneurs who seek to build great companies. We believe in the aspirational power of the American economy to attract and inspire investors and entrepreneurs from throughout the world. We deliver new and exciting opportunities for economic growth through the creation of innovative public-private partnerships, and our unique experience across government, education, and private sectors. Identified by Financial Times as one of America's Fastest Growing Companies three years in a row.
LinkedIn | Twitter | Facebook | Crunchbase | Pitchbook