American Lending Center Celebrates Successful Opening of Atrium at Liberty Park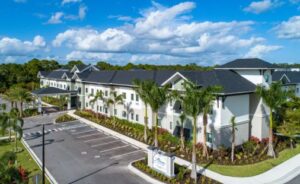 CAPE CORAL, FL (December 10, 2019) – American Lending Center (ALC), recently celebrated the opening of Atrium at Liberty Park, an assisted living community in Cape Coral. While they officially opened in November, prospective residents are encouraged to tour the campus and meet the staff on December 12th at their Holiday Open House.
As an investor in the project, Atrium remains ALC's largest investment thus far. The home has already generated considerable interest with 54 reservations and many residents beginning to move in. Showcasing supportive independent and assisted living as well as memory care options, it also promises residents an active lifestyle, featuring over 110,000 square feet of landscaped courtyards, amenity spaces and 130 residences.
"As our biggest project to date, the completion and opening of Atrium marks a significant milestone for ALC," said John Shen, ALC's Chief Executive Officer.
"We're thrilled to have received so much support from ALC," said Robert Lord, Executive Director of Atrium. "If you want to see the future of senior living, then join the Atrium family."