Eritage Resort Lakeside Bungalows Open June 1, 2019
WALLA WALLA, Wash.–May 22, 2019–Eritage Resort today announced the June 1 st opening of 10 new lakeside bungalows, which join the 10 existing suites within the resort's main building. Nestled on more than 300 acres in the rolling wheat fields and vineyards, the resort is designed to capture the sweeping views of the vineyards, Lake Sienna and the Blue Mountains.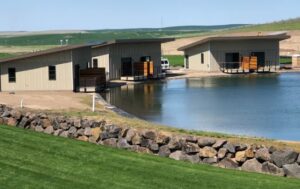 Guest Chef Series: The third Thursday in June – September will feature a guest chef series with talented chefs from around the Pacific Northwest coming to join Executive Chef Brian Price and James Beard Award-winning chef Jason Wilson and create a six-course menu paired with wines from some of Walla Walla's finest winemakers. Lodging packages are available.