Walla Walla gains top-flight exposure in Vogue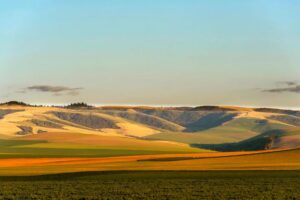 Even the world's top fashion magazine is endorsing Walla Walla.
Just four months after being listed by Travel + Leisure as one of the 50 Best Places to Travel in 2018, Walla Walla has made headlines with Vogue.
"Why Walla Walla, Washington Should be Your Next Wine Region Vacation" went live on the magazine's website around 3:30 p.m. Friday in coverage that even shocked local wine and tourism officials.
That the community, its culture and food and wine industries would capture the attention of a publication often referred to as "the fashion Bible" and better known for its coverage of beauty, culture, living and runway is a testament to its its growing appeal and evolution into a destination for those who appreciate the finer things.
"The interest in Walla Walla from luxury to leisure writers and travelers is expanding as our Wine Country business offerings expand," said Ashley Riggs, chief operating officer for the Walla Walla Valley Wine Alliance. "There's a higher echelon of wine connoisseurs who know the quality of wine coming from Walla Walla Valley wineries and they've been craving options for a luxury experience. With an increased inventory of boutique hotels, spas and concierge services we're able to expand our appeal as a premium wine country destination."
The piece, Riggs said, was born out of a weeklong statewide tour with freelance writer and editor Christina Pérez, a former fashion development editor at Glamour-turned freelance writer on travel, style, interiors, food and lifestyle for numerous publications, including Vogue. Her visit was coordinated through the Washington Wine Commission. She spent two nights in Walla Walla, Riggs said.
"We're extremely proud that Walla Walla was Ms. Pérez's highlight from that multi-(American Viticultural Area) experience."
The piece highlighted places to stay (The Inn at Abeja and not-quite-open Eritage resort), places to drink wine (L'Ecole No 41 and Woodward Canyon), places to eat (Brasserie Four and Walla Walla Bread Co.), as well as the guidance of Bella Fortuna Tours for a trip through town.
"Don't go expecting the pine trees and misty skies of nearby Seattle or Portland; here, it's all about rolling hills covered with sage brush or rows and rows of grapevines," Pérez wrote in her piece. "In the growing season, the verdancy of those vines creates an otherworldly effect against the otherwise arid land — especially as the sun begins to descend, coloring the sky with vibrant streaks of orange red. Walla Walla's sunsets are legendary and, truly, some of the most enchanting around."
For those whose jobs are to promote Walla Walla and its robust array of attractions, the inclusion with Vogue and Travel + Leisure is a demonstration of next-level attention for the community.
"It's expected to open up a wine publication and see Walla Walla among the wine destinations," said Justin Yax, partner/public relations director for Visit Walla Walla-contracted marketing agency DVA Advertising & Public Relations.
But the fact that the community would be featured by a media company that targets a female-dominated readership for fashion and beauty is not expected. It comes on the heels of a USA Today listing that puts Napa at the top of the list of the country's most expensive tourist destinations.
Added to the fact that numerous high-end projects are in the works and on the horizon — a new inn and restaurant on the southeast corner of Second Avenue and Main Street, the Penrose Walla Walla Hotel & Spa, the aforementioned Eritage opening, plus the revamp of the former Red Lion Inn & Suites into an independent hotel by Seattle's Columbia Hospitality, just among some of the lodging projects alone — Walla Walla is gaining ground in the luxury market.
"There's a lot going on and it's all kind of symbolic of or representative of where Walla Walla is heading as no longer just the alternative to Napa," Yax said.
The reach of the coverage from Vogue is hard to determine with what so far has been exclusive to the web.
Yax's firm determines the value of editorial media coverage through an equation that takes the cost of a full page ad, multiplies it by the number of pages and then doubles that amount. The number from editorial versus advertising reflects the increased credibility of the written word over paid advertising.
Vogue's stated circulation in Cision, the media database to which DVA subscribes is 1,222,069. The cost of a full page ad in a single issue is $203,412. At that rate, a two-page piece on Walla Walla would be valued at $813,648 by DVA. How to measure the value of an online piece is a little less clear.
Nevertheless, the coverage was a nice surprise to Yax who said the urban professional female market is a powerful one in travel decisions.
"It's just a great time to be Walla Walla," he said.